iDetailAid 1.10¶
iDetailAid is pleased to announce the release of iDetailAid 1.10 which will be available on Wednesday 1st May 2019.
This major release has seen enhancements to a number of areas of the platform, including:
Slide templates and the Content Administrator role
iDetailAid events through HTML
2-axis swiping
Improved Veeva publishing
Slide templates and the Content Administrator role¶

A feature that will make content creation and maintenance more efficient is through the use of slide templates. Similar to the concept of "Master Slides" in Microsoft Powerpoint, content authors are now able to define reusable templates with fixed content or placeholders which can be used as the basis for slides.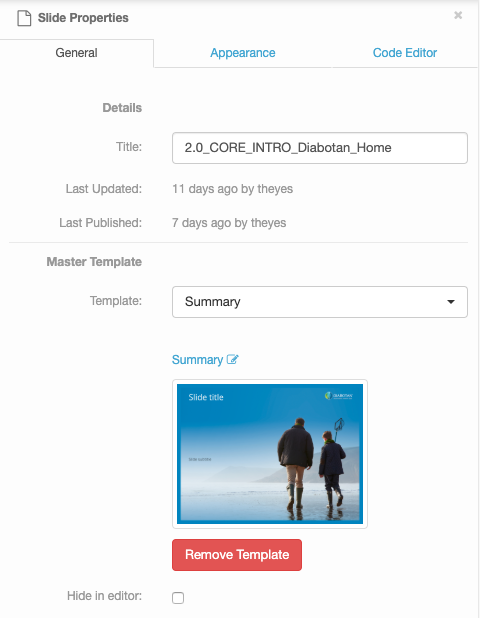 Templates can also include overlays meaning commonly accessed additional content such as Important Safety Information can be maintained in a single place, but initiated from multiple slides.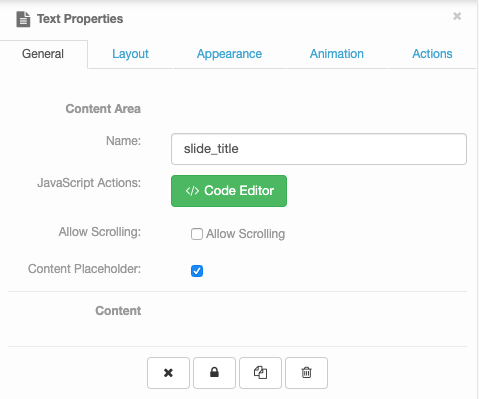 An associated new role has also been introduced which will allow administrators to assign template editing permissions to individual users. Content Authors will be responsible for creating templates for Editors to use across a product and region.
iDetailAid events through HTML¶
iDetailAid has always provided support for externally created HTML packages for technical authors to include more interactive content in presentations. Combined with the iDetailAid Viewer API, commands can be programmed into the HTML packages.
In the 1.10 release of iDetailAid, this has been further enhanced to provide greater control of commands via the iDetailAid interface and to improve localisation capabilities.
Developers can now define custom HTML events inside their HTML package which can be parsed by iDetailAid in order to present content authors with an interface for defining commands to be triggered by those events. These could include navigating content, launching overlays or attaching Approved Email templates.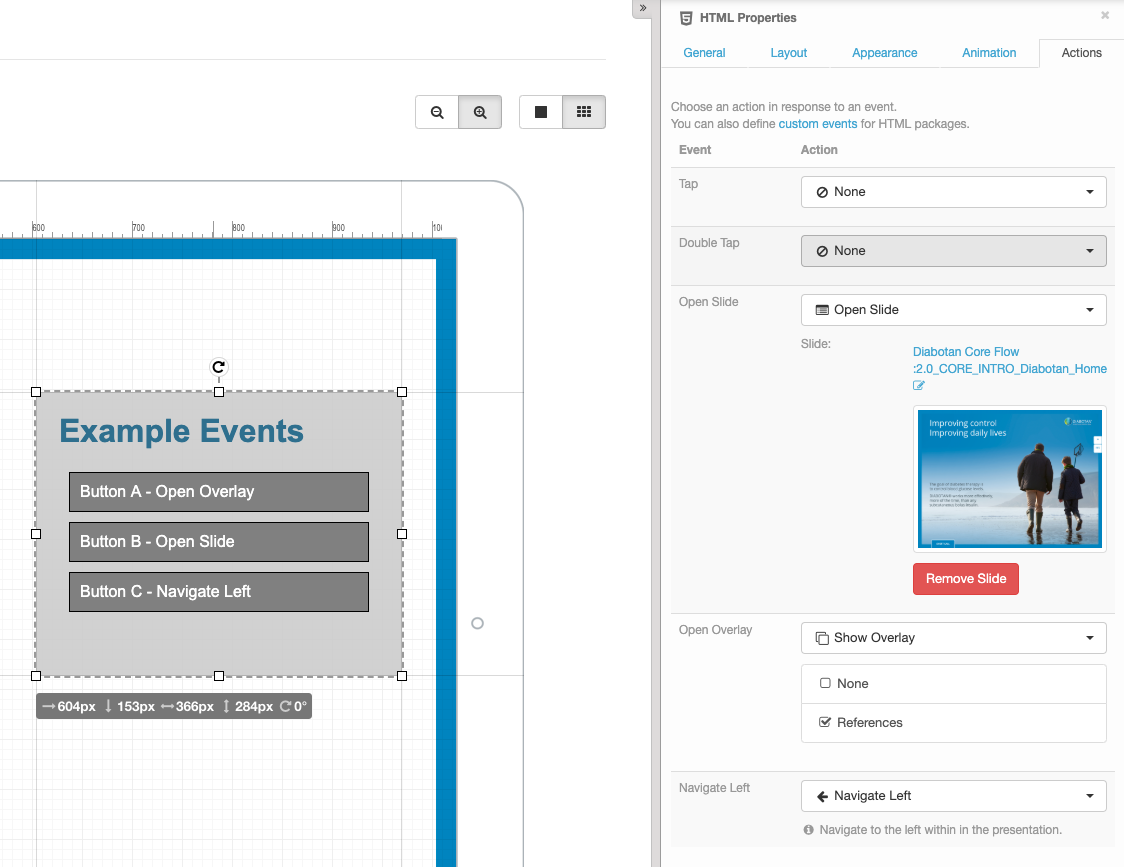 When copying content for localisation, iDetailAid can automatically translate these commands so that they work seamlessly for the destination markets.
2-axis swiping¶
A new feature for the latest release is the ability for Veeva users to navigate to adjacent slides in all directions (up, down, left, right) using swipe gestures. Previously only horizontal swiping was possible, with all vertical navigation being achieved through tap gestures on automatically overlaid navigational elements.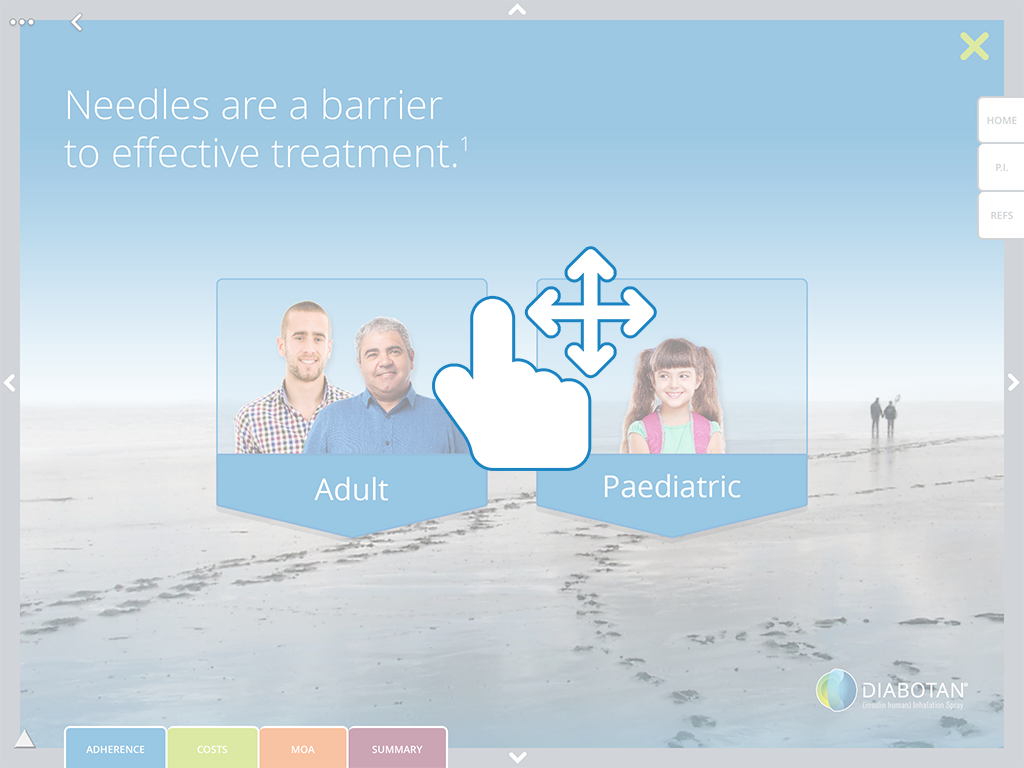 Importantly, this feature preserves the use of Veeva Key Messages for all slides meaning that standard CLM reports will still track every navigation, regardless of direction.
Enhanced Veeva packaging for increased efficiency¶
iDetailAid's Veeva publisher has been rewritten to make use of Shared Resources, minimising content that needs to be downloaded to Veeva CLM on the iPad.
In addition, improvements have been made to iDetailAid's own content rendering engine to decrease transition times between slides. Combined with the new 2-axis swiping feature, this makes content navigation much smoother.
Content authoring features¶
Additional features have been introduced to the slide editor, including:
Optionally making text-based content areas scrollable
An extended list of CSS animations that can be applied to content areas with more control over timings
The ability to assign separate actions to content areas based on single and double tap gestures
Additional content area animations and speed / delay options
SVG image support
Bug fixes¶
As always, there have also been a number of minor issues resolved and bugs squashed. 
If you have any questions about the iDetailAid 1.10 release or anything else, please contact support@idetailaid.co.uk.