iDetailAid 1.6.2¶
We are delighted to announce the release of iDetailAid 1.6.2 which will be available on Thursday 10th March 2016.
This release further improves the slide editor with time-saving shortcuts and navigation enhancements. There are also many bug fixes and performance enhancements as well as some operational improvements.
Widget shortcuts¶
It is now possible to add a widget of a specific type directly to a slide or an overlay.
The Add Content Area button now has a drop down menu option allowing you to choose the type of widget you want to add.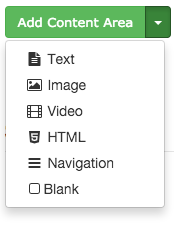 Using the slide editor right-click menu it is also now possible to add a specific widget type to the canvas. This will add the widget at the location of the mouse pointer.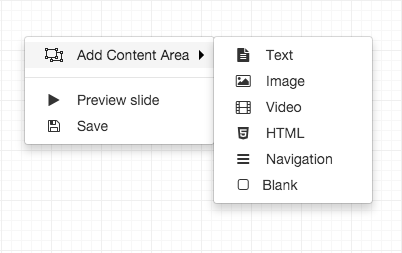 Widget actions for navigating left, right, up and down in a presentation¶
Adding to the navigation options in iDetailAid, widgets can now be assigned new actions which will navigate left and right or up and down in the context of a presentation.
This gives far greater flexibility when creating a navigational structure for your presentations as you no longer need to rely on absolute linking when creating navigation to adjacent slides. It also gives you a quick and easy way to replicate the navigation arrows (if enabled).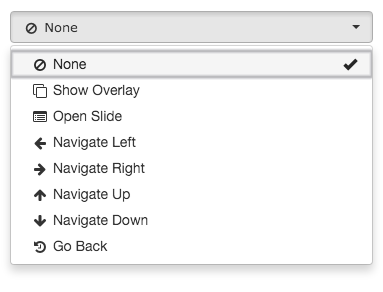 Replacing video thumbnails¶
A small enhancement to the asset library in iDetailAid is the ability to replace the thumbnail used to represent a video in slides. Accessed via the Assets tab, it is now easy to remove or choose a new thumbnail for video content.

Bug fixes, performance enhancements and operational enhancements¶
As well as the features outlined above, a great deal of work has been done to further improve the speed of iDetailAid in regards to both usage and configuration. There have also been a large number of issues resolved.
If you have any questions about the iDetailAid 1.6.2 release or anything else, please contact support@idetailaid.co.uk.