iDetailAid 1.7.3¶
We are pleased to announce the release of iDetailAid 1.7.3 which will be available on Wednesday 19th April 2017.
This release introduces presentation and slide level data that can be configured by system administrators to allow content creators to include custom metadata as part of the information sent to publication endpoints.
Custom metadata¶
iDetailAid 1.7.3 introduces enhanced data input capabilities that can be configured at both a presentation and slide level.
Custom forms containing data entry elements can now be included as mandatory or optional fields as part of the presentation and slide editors where additional metadata is required for publish endpoints.
For example, in a Veeva integrated implementation, content creators are able to mark presentations as "Training" or disable certain actions such as "Pinch to Zoom" or "Swipe" at a slide level.
Fields are not limited to standard parameters, but can be configured to accept any data types to be passed to the configured endpoint during the publish process.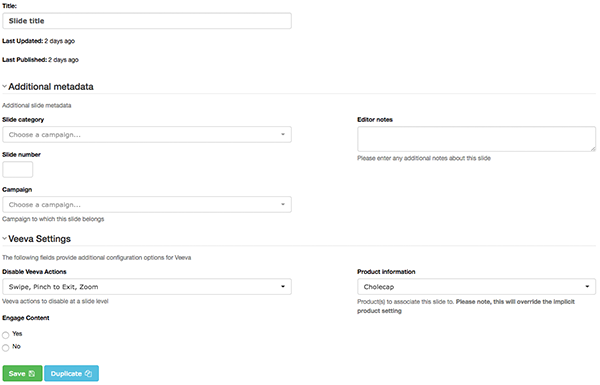 Bug fixes¶
As usual, there have also been a number of minor issues resolved and bugs squashed.
If you have any questions about the iDetailAid 1.7.3 release or anything else, please contact support@idetailaid.co.uk.